Manitoba Chapter Past Events
February 13, 2018
ACSESS Winnipeg Presents: Leveraging Social Media for the Staffing & Recruiting Industry
+/-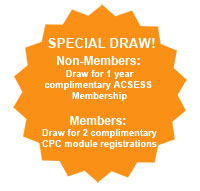 Leveraging Social Media for the Staffing & Recruiting Industry
In this session, you will learn to understand the importance of social media and how it impacts staffing & recruiting. We will provide recruitment strategies using top social media platforms; you will learn key characteristics of thought leaders and how you can apply them to your customers, candidates and employees. This session is highly interactive with mini workshops on Creating Your Personal Brand, Social Media Bios and more...
Date:
Tuesday, February 13th, 2018
Time:
12:00pm-3:00pm (Lunch is included)
Location:
Manitoba Club
194 Broadway
Winnipeg, MB
Fee:
Members $50 | Non-Members $60
Trainer:
Jill Kantor
RSVP:
acsess@acsess.org
Trainer bio:
Jill brings 13+ successful years as a Senior Partner, Managing Consultant & National Field Trainer with the David Aplin Group. A proven track record, Jill is a 10-time Top Performer Award Winner and brings a wealth of experience training, coaching and developing people. She successfully spearheaded the development and execution of Aplin University, ongoing training programs, webinars, workshops and lunch & learns for the David Aplin Group, nationally. Jill earned her Practical Workshop Facilitation Skills Certificate through the University of Winnipeg in 2016. She is also a head industry trainer for ACSESS delivering many of the Core Industry Training and CPC webinars.
---
June 6, 2017
ACSESS Winnipeg Presents: Seven Traits of Peak Recruitment Performance
+/-
June 6, 2017
9:00 am - 11:00 am

$119 per person

Norwood Hotel
112 Marion Street
Winnipeg, MB

Register on-line
acsess@acsses.org

CALL TO REGISTER
1-888-232-4962

JUNE 6, 2017


SEVEN TRAITS OF


PEAK

RECRUITMENT PERFORMANCE

WINNIPEG ACSESS CHAPTER EVENT

In this entertaining and educational presentation, Steve demonstrates how peak desk performance is influenced by seven predominant personality traits that drive predicable behaviours. Participants will complete a confidential on-line behavioural survey in advance of the session and will receive their own professional profile report. With your personal report in-hand, we will transform behavioural theory into staffing industry reality. Presented in a style and language that we all understand, you'll leave with practical tools and tactics to help you manage and achieve peak desk performance.

With over 30 years of industry experience Steve Jones is one of the most recognized names in Canadian staffing. Steve is the President of "Steve Jones Business Leadership Corp" offering training, coaching & consulting in the areas of sales, marketing, human resources & selection, process improvement, social media, leadership & staffing industry certifications.

Sponsored by:

STEVE JONES BUSINESS
LEADERSHIP CORP
www.stevejonesleadership.com

Canadian Staffing Industry

Performance Experts
---
January 18, 2017
ACSESS Manitoba Chapter - Event featuring speaker Mary McIninch
---
December 3, 2014
ACSESS Winnipeg Presents: Keynote Speaker Steve Jones!
+/-
A Favourite from the ACSESS Banff 2014 Conference
Stop Trying to Change Me!

This session uncovers tips on recruiter selection, compensation models, on-boarding and managing. It all leads to avoiding costly mistakes and improving recruiter productivity.
In this session we review the personalities activities, performance measures and tricks used to achieve higher results. It starts with the premise that people don't change then it gets interesting.
This staffing industry customized session also uncovers tips on recruiter selection and high gross margin marketing. It all leads to avoiding costly mistakes and improving productivity.
| | | |
| --- | --- | --- |
| One of the most recognized names in Canadian staffing, Steve Jones offers training, coaching and consulting in the areas of operational improvement, sales, legislative compliance, social media, individual coaching, and leadership development. With over 30 years of recruitment and staffing experience, Steve is a professional speaker and a multiple franchise owner of Qualicare Home Care, owner of Socialite Internet Marketing and sits on several corporate and charity boards. | | |
ACSESS Winnipeg would like to offer you an opportunity to gain a wealth of knowledge from Steve by attending 2 Core Industry Training (CPC) modules in the morning and gaining complimentary access to his session "Stop Trying to Change Me!" in the afternoon.
Wed. Dec. 3, 2014
8:45am to 10:15am
Business Practices and Ethics

Steve Jones
Gain the essential knowledge required for all Professionals in the staffing and recruitment industry. Learn how to differentiate yourself from your competition through best business practices with clients and candidates
10:30am to 12:00pm
Legal Aspects: Recruitment Practices

Steve Jones
Increase your knowledge of human rights, privacy legislation and knowledge requirements in permanent placement/professional search
1:00pm to 4:00pm
Stop Trying to Change Me!

Steve Jones
Keynote Session
Fee:

Morning modules $172 + tax each – attend both modules and get free admission to the afternoon keynote session
Keynote session only: $35 members and $40 non-members (free if attending morning CIT sessions)

Location:

Delta Winnipeg
350 St. Mary Avenue
Winnipeg, MB
Kildonan Room
RSVP: Sinead Finnegan – sfinnegan@acsess.org
---