ACSESS Champion Program
Promoting inspiring stories of success from our over 1000 members
The ACSESS Champion program promotes inspiring stories of success from our over 1,000 members in the Canadian staffing industry. Our members offer their candidates more than a job. Every year our members change lives by opening doors for Canadians looking for employment to help them reach their goals, support their families and build an exciting future.
CURRENT CHAMPION
ACSESS CHAMPION: David Aplin Group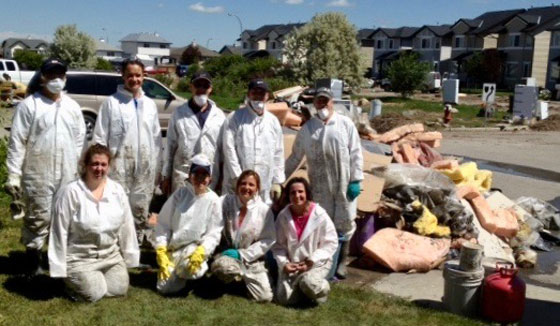 When Jeff Aplin was growing up in Edmonton, his church adopted a family of Vietnamese refugees. He was inspired when his parents eagerly stepped in to help -- his mother treating them to home-cooked meals and his dad coaching them for their first Canadian job interviews.
"Giving back is something we always did as a family," says Jeff, president, David Aplin Group. "My parents, Grace and David, believe that it's important to be compassionate and give people a hand up. Embedding social responsibility in our company's core values reflects my parents' values. We care and have a strong heart, which is a real differentiator for us. We were founded as a family company in 1975 and even though we've grown to nine offices across Canada, family values are still at the heart of everything we do."
Jeff feels fortunate to support the staffing and recruitment industry because it offers him endless opportunities to make a difference to Canadians' lives. "When someone is looking for a job, it can be a vulnerable time. We have the opportunity to make a positive impact in almost every conversation. Even if you're not going to place someone, you can give them a tip or words of encouragement to point them in the right direction. Our culture of trying to make a positive impact whenever you can fuels our social responsibility focus and our desire to give back."
The heart of the Aplin Group is big, strong and vast – spanning three pillars of charitable support at local, national and International levels. The Aplin Group knows the benefits of education to job success and wanted their international pillar to focus on building schools for disadvantaged communities.
"When my niece Jessica was at university, she went to Ghana through Free the Children's Adopt a Village (now part of the We Charity) to build schools with other students. She came back such a different person. My sister and brother-in-law decided to take their three children back a year later, this time going to Kenya. At the office, we started talking about our family experience with the work of the We Charity in Africa. We agreed that it's important to help our communities in Canada but also to take a broader view and seek ways to be good global citizens. We decided to help Free the Children too."
A commitment of only $10,000 can make a huge impact in financing a school in Irkaat, Kenya. Our Aplin Group employees are proud to have helped fund three new school classroom blocks. Employees also eagerly support many We Day events across Canada and are given the day off if they want to attend the annual We Day celebration. Employee contributions are matched by the Aplin Group as a percentage of profits.

"We are continually inspired by companies like David Aplin Group, which have made a conscious effort to give back to the community and we thank them for helping transform the world from 'me' to 'we'." – Craig Kielburger, Co-founder, Free The Children
For more than 20 years, all Aplin Group offices across Canada have been holding United Way workplace campaigns to raise funds for local programs and the company steps in to match their efforts. In the photo above, the Calgary staff can be seen helping those in need after the recent local floods in the area. "We want to support the important United Way efforts in the communities where we work. We chose United Way because of its national scope and we bring in speakers from this organization to help us understand how we can support United Way efforts in our communities. We have also supported the United Way by helping its team fill certain roles in their campaigns," says Jeff.

"At United Way, we are very proud to work with David Aplin Group employees across the country. Over the years, hundreds of thousands of dollars have been raised by your organization and invested to help the most vulnerable individuals and families. Thanks for your continued support!" – United Way Alberta
At the local level, the company encourages its employees to "lend their support and make a positive impact wherever they can." Paresh Mistry, regional vice president for the GTA, supports the Down Syndrome Association of Peel as its president. David Aplin Group employees and clients help Paresh with fundraising and by volunteering.
Jeff is proud to lead the second generation of the David Aplin Group family who believe being good corporate citizens is what makes a business thrive.
PAST CHAMPIONS
Express Employment Professionals
Express Employment Professionals join effort to help address skills gaps.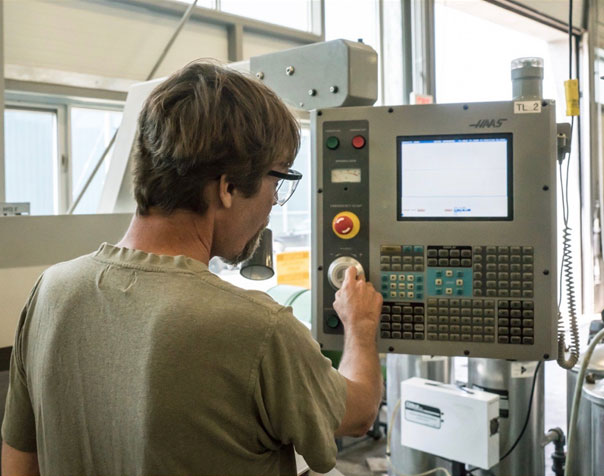 For the past few years, Lowell Soucie has been bouncing from one unskilled trade to another. Now he is committed to securing a job and higher income as a Computer Numerical Control (CNC) machinist. This skilled trade is critical to a machine shop or manufacturing floor because it uses computer software to create 3D custom parts for production.
Lowell (pictured at left operating the CNC machine) represents the biggest challenge facing the Canadian skilled trade sector.
On one end, you have alarming stats on our talent gap in skilled trades. One quoted widely is from the Conference Board of Canada's report The Need to Make Skills Work: The Cost of Ontario's Skills Gap. It highlights how this gap continues to widen and is costing $24 billion annually.
At the other end, you have Lowell who would gladly fill a CNC role tomorrow, but he can't just walk off the street and start operating this powerful machine. Obtaining certification requires three to five years of training and expertise in math, computer programming, studying blueprints and other technical skills.
"Everyone agrees we have a huge skills gap. As boomers and traditionalists retire, it's driving huge demand," says Ted Maksimowski, president, Express Employment Professionals, Hamilton and ACSESS national board member. "Few people are actually doing something about it but in Hamilton we are. We helped create an industry coalition to leverage collective impact and deliver something tactical, as well as tangible. The group did their due diligence, conducting extensive research and reaching out to companies experiencing the skills shortage pain. They identified a desperate need for CNC and Mobile Industrial Hydraulics operators. Then the group engaged Mohawk College, one of the leading trade colleges in Canada, to deliver the education in hard and soft skills."
Led by The Industry Education Council of Hamilton, the coalition includes: the Ministry of Economic Development and Growth; Mohawk College, Express Employment Professionals; and multiple industry partners. Together they created the Employer Skills Training Advantage To Employment ("E.S.T.A.T.E") Program, a pre-apprentice, work integrated learning program offered at Mohawk College for technical training and Mohawk College Enterprise for soft skills training.
It's opening doors for Lowell. Watch Lowell's video recommendation for anyone considering a program like E.S.T.A.T.E. He is one of 26 students (half in CNC and half in Mobile Industrial Hydraulics) being matched with an employer to receive 28 weeks of intense hard and soft skills in the classroom and on the shop floor. They also must complete a six-week placement at a manufacturing facility, where they receive on-the-job training and mentorship to guide and build confidence. See promotional video on E.S.T.A.T.E.
"Hamilton is a really interesting community. Not only is it revitalizing itself in terms of the economy and industry but there's so much collaboration and partnership in trying to get things done," says Cesare Di Donato, Executive Director, Industry Education Council of Hamilton.
"It was important to find the right experts to manage key elements of the program," Di Donato explains. "Express is playing a critical role with us because they understand employers, employment, and hiring. The strategic plan it developed has helped us inform our work. Express also worked with us to set up interviews with partners and match students working in the CNC and Hydraulics trades. The fit has to be right to fill both needs and their team did an amazing job matching the right people with each need."
One of E.S.T.A.T.E's unique features is that each student is paired with an industry mentor who guides the student through the program and participates in four days of customized leadership training to enhance their skills as well.
"Matching the employers with the students was a meticulous process, involving resume reviews and interviews to achieve the right fit," says Doug Ward, consultant, Express Employment Professionals, Hamilton. "We wanted to bring the students together with the right employer to ensure the best outcome, which is to get hired. Experienced CNC and Hydraulics trades secure an average hourly wage of 23 to 32 dollars depending on experience.
The Industry partners are hoping the E.S.T.A.T.E. program will be one of many because the qualified pool of tradespeople is also shrinking due to the aging workforce and lack of interest across Canada. Lowell is doing his placement at Stolk Machine Shop Limited, which specializes in quality machining, welding and fabrication solutions. If he is hired full-time, he will start a full apprenticeship, which could take up to five years of on-the-job training.
Wendy Taylor, Stolk's Director of Operations, is eager to host a student who is getting the training offered by E.S.T.A.T.E because it creates a potential job candidate who is committed to the trade. It's critical to mitigate the risk of investing in a candidate who ultimately discovers the job is not a good fit, sending Wendy back to the drawing board.
Wendy explains: "The ideal situation is to hire skilled people but we recognize that's not always possible. If we hire someone from the E.S.T.A.T.E program, we know they have completed the pre-apprentice training and understand what they are getting into because they are studying first, second and third year apprentice material. Many of our machinists will be retiring during the next decade. It can take up to five years to become a skilled machinist and we only have a five to ten-year window where we will have experienced people onboard to help train."
Wendy's father started Stolk 35 years ago and she's witnessed firsthand the benefits of being a machinist. "It is a job that is in demand and offers job security, full benefit packages, pensions, etc. These are things that young people may not yet appreciate the significance of." states Taylor. "Sadly, no one pushed anyone into the trades when I was in school. As an industry, we have to continue to promote the benefits of the skilled trades through programs like E.S.T.A.T.E."
One of Lowell's instructors, Marla Robinson, is optimistic about job opportunities for the students who successfully complete the program. "Unfortunately, many people still consider careers in skilled trades as a pathway for those unable to attend college or university". Nothing could be further from the truth. The diagnostic skills required to operate, program and maintain today's technology require problem solving and critical thinking skills on par with those of any profession.
The trades offer excellent employment opportunities providing for a secure future. Robinson adds: "Think about the cost to repair your car or renovate your home. People don't hesitate to leave the car with a mechanic or hire a contractor for a home repair or renovation, yet they won't recommend this line of work to their kids. It makes no sense.
ADECCO Canada
Adecco Canada opens the doors of power to support future leaders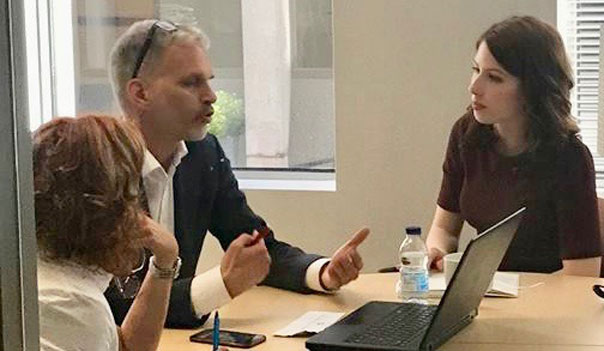 It took a leap of faith for Gilbert Boileau, President of Adecco Canada, to swing open the doors of his office for a month.
That's exactly what he did. In June, Gilbert invited Alana Couvrette, (pictured above with Gilbert) a 22-year-old student studying public administration and political science at the University of Ottawa, to job shadow him, as part of his company's CEO for One Month program. As part of the process, she would also share her journey along the way on social media.
Boileau is big believer in giving everyone at all levels a chance to excel but had some reservations. "I questioned how it would come together, yet was intrigued to see the outcome. I would need to allow someone in 'my bubble,'" explains Gilbert, "but for the program to work effectively, Alana needed to be able to shadow me as I carried out my day. Her job shadowing covered everything, including confidential meetings with other colleagues, events and client meetings. You name it. In the end it was a huge success and I would sincerely recommend it to any CEO."
This experience was also enlightening for Gilbert. "It was so interesting to share my experience with a young person and fascinating to see things through Alana's eyes. It forces you to think about things you haven't considered in years. She is impressive on so many levels. Her energy and enthusiasm was felt by the many teams. Armed with her political background, she was inquisitive, probing and asked me some tough questions. I had to explain so many things to Alana because she has very little background in our industry. It made me reflect on the way I do things..."
Alana was chosen from more than 2,300 applicants to become Adecco Canada's first ever CEO for One Month, a global program that is part of the company's Way To Work initiative. Gilbert's passion for the program and willingness to participate sparked after hearing the global CEO for One Month speak at an international company conference.
"This program is positioning us as an industry leader in attracting the next generation of leaders with our flexible, open and inclusive work environment," says Christine Marinho, Adecco Canada's Director of Marketing for The Adecco Group in Canada. "The Millennials represent 37 per cent of the Canadian workforce with 28 per cent of them in managerial roles. The Baby Boom generation is transitioning out of the workforce and we want to foster a supportive environment where we develop leadership talents, encourage the sharing of ideas and provide mentorship at all levels. Our CEO for One Month program allows us to 'walk the walk' and provide access to one exceptional leader who will share their experience in real-time with employees and potential candidates via social media."
What was it like for Alana to be given this extraordinary opportunity?
"It was overwhelming and inspiring in every possible way. I never realized you could get so much done with so little sleep," she says jokingly. "Yet, I would wake up every morning, excited to be able to do it all again. I had no idea what a CEO does and I wasn't very familiar with the staffing and employment industry. I've had a total of five jobs in my life and now I was working with the CEO." Watch one of Alana's Day in the Life video updates.
She and Gilbert instantly clicked. "He treated me as an equal, as we leapt head first into his jam-packed schedule, where we met with amazing Adecco clients, discussed their needs and worked with employees from every function across the organization. Everyone was so committed and excited."
Alana found Adecco employees to be very special. "They are 'people', people, so warm and welcoming. I really enjoyed travelling to meet with clients at their offices and learning about the services Adecco offers. I saw firsthand how fascinating the staffing industry is and how much Adecco cares for its clients and candidates. There are so many myths about the industry. I was in so many meetings about placing candidates and I saw how hard they work to get candidates the best benefits and compensation."
Some of Gilbert and Alana's favourite moments were driving to client meetings together and discussing industry issues. It's where they discovered how the generational divide sparks great debate and fosters understanding. "Both Gilbert and I like to be challenged, to be proven wrong and be shown the faults in our reasoning," says Alana. "It made for many lively conversations between the two of us. He has a fascinating background and it's rare for me to have the full attention of someone with his experience. I think we pushed each other to see the world from each other's eyes." Alana shares her thoughts on how Millennials and Baby Boomers can help each other enhance their leadership skills in this blog post
Adds Gilbert: "I enjoyed our debates. I think it's so important for Alana to not only challenge me, but everyone she is working with. There were some interesting debates and I am glad I created a haven for her to share her insights, which was eye opening for us both. This program is meant to benefit Alana but I learned so much as well. It's not often that you get the opportunity to have someone sitting beside you and observing how you work. She helped me see myself in a different angle, from the viewpoint of someone looking from the outside in."
What's next for Alana now that's she's helped lead the Canadian group of a multi-million dollar organization for one month? She is being considered along with 48 finalists from around the world for the honour of acting as Adecco's Global CEO for One Month, shadowing Alain Dehaze, The Adecco Group's Global CEO. The Global CEO for One Month selected will also receive a salary of 15,000 Euros. You can help Alana achieve her dream of becoming Adecco's global CEO FOR ONE MONTH. Anyone can rate the candidates. Visit here and scroll to the bottom to choose your top ten candidates. It just takes a moment.
"I am so proud of Alana," says Gilbert. "She was thrown in the water and swam so impressively. She had more of a theoretical view of the business world and she was able to see it in practice. It was amazing how poised she was considering everything she went through, meeting so many different stakeholders and engaging in real world discussions. To be able to work with the CEO at a macro level, at her age, is remarkable."
Marley Filiptseva
Manpower helped Marley get a leg up to achieve her dreams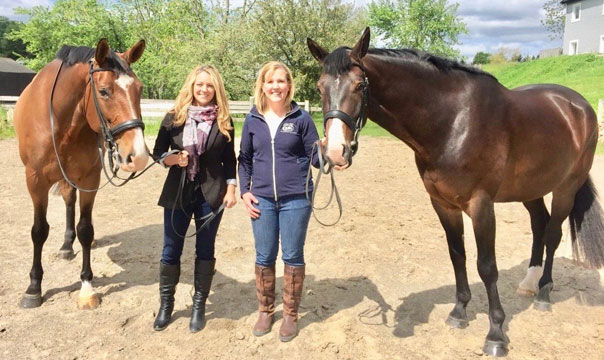 Havana, Karli Timpano (left), Marley Filiptseva and Devon.
Marley Filiptseva (in photo at right) has two passions: human resources (HR) and horses. She wants to succeed in HR shared services and dreams of representing Canada at global equestrian competitions. Until six months ago, both these goals sadly seemed beyond her reach. Her fate turned when she contacted Karli Timpano, Talent Placement Specialist, Skilled Trades/Automation/Sales Recruiter, at Manpower Canada (pictured above left).
Watch video of Marley and Karli telling their story.
"My family and I decided we would stay at our Alliston farm long term and build an indoor horse-back-riding facility so I could train in all weather," Marley explained. "Nothing too large, just enough for myself and my horses," she added.
As an avid competitive dressage rider for more than 25 years, this was going to be Marley's dream come true. Unfortunately, the couple faced so many stumbling blocks. "The bank felt that the investment was too high for our current combined income," said Marley. "After a few calculations, they said we needed to earn a higher level income to qualify comfortably." This news came on the heels of a candid discussion Marley had with her boss. He had bluntly told her there were no growth opportunities for her.
She had to look elsewhere. This was a challenge because her rural community had few opportunities in her field. "Believing my equestrian dream wasn't going to happen anytime soon, we put plans aside," she explained. "I couldn't have been more disappointed. I have a loving family who fully support my dreams but finances stood in our way."
In frustration, she reached out to Karli, a long-time client who had always helped her find great candidates. Karli was incredibly supportive. A week and a half later, she told Marley that Glueckler Metal Inc. (GMI), a Canadian turned parts supplier, had an opening for an HR manager. Within three weeks, Marley moved to a challenging new position in a leadership role working with Warren Collier, Operations Manager who is delighted to have Marley as part of his team and is excited to provide the growth opportunities she needs with GMI. "When I met Marley, I instantly knew she was the perfect fit for us. She's extremely bright, such a great communicator and so sharp when it comes to determining our needs." Not only has this new position created the professional challenges Marley was seeking but it's also provided an enhance compensation package that will support her equestrian dreams!
"I cannot thank Karli and Manpower Canada enough for making this happen. Karli was an absolute joy. She took time to get to know what I wanted and believed I had potential to be more," explains Marley. "Some things in life are meant to be. You just have to connect with the right people, like Karli, to make it happen. Not only do I now have a rewarding career with abundant opportunity for growth and development, I'm also able to realize my dream of developing my own dressage facility. To have both my professional and personal goals met in such a short time is phenomenal gift."
Adds Karli: "When I called to offer Marley her job at GMI, I almost started to cry. She told me, 'You don't understand how much this has changed my life.' Marley was so anxious to move her career forward. She is so talented and would be an asset to any organization. We are delighted we could help her move her life in a new direction and we'll cheer her on as she competes at the highest level in her HR career and on her horses."
Rashidul Islam

How temp work drove Rashidul Islam from a taxi to a permanent finance role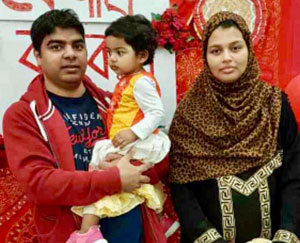 How do you go from two years of taxi driving to landing an accounting role that was once beyond your reach? For Rashidul Islam it started with meeting Angela Chambers, practice leader with Mercer Bradley, a specialized Accounting recruitment firm in Winnipeg.
"I remember how excited I was to meet Angela and how friendly she was," says Rashidul. "I met so many people after arriving in Canada. This networking and hard work just wasn't helping me secure a job in accounting, the field I'd trained in. In Angela, I felt I had finally met someone who cared and was willing to help me build my career. I came to Canada in 2012 from Dubai via Bangladesh with some savings but I quickly used them up trying to get an accounting job. I was desperate. I was continually told I lacked Canadian experience, yet I had extensive supervisory experience in Dubai. I lived with my sister and had to pay for expenses. So I took work wherever I could find it; first in a hotel, then a warehouse, then driving a taxi. While driving, I met many fascinating Canadians who gave me advice and helped me enhance my communications skills. It wasn't ideal but I felt I didn't have options. One day when I was driving between fares, I decided I needed to take action. I felt I had options just like everyone else. I had to pursue my interest. So I decided to enrol in the Chartered Professional Accountant program (CPA). I really couldn't afford the money needed to enrol, let alone take courses, but I knew I couldn't afford not to do it. It was a risk. I was on the CPA website searching for jobs and I saw a position at Mercer Bradley that was posted by Angela, who I've since discovered is a CPA. She placed me in a three- month contact at Arctic Co-Operatives Ltd as a financial support officer. It felt like a great fit. Working on a temporary contract is a great option for job seekers. It takes the risk out of accepting a job. It gave me a chance to get to know the company and confirm that its culture and the job were perfect for me. I was even more thrilled when they offered me a job after the contract ended. I am so grateful to Angela for believing in me. I love my job. My co-workers are so nice and helpful, which I really appreciate. Their attitude helps me get to know my job and learn about Canadian culture. My manager Pauline Scott regularly reaches out to me, going over and above to ask how she can help me grow in my job and manage my work/life balance. She does the same for all my co-workers. I couldn't ask for a better boss or team. I feel more confident each day. I want to build a career and life in Canada with my new wife and baby. Angela and temporary employment opened those doors for me. "
Shanesse Mair

Talentcor mentored new grad to land the role of her dreams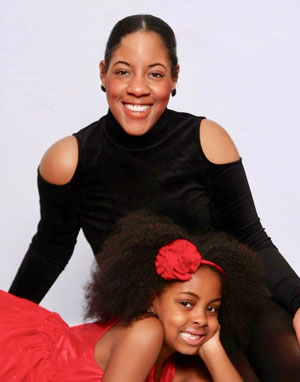 "I tell my friends who are looking for a job to avoid following the same beaten path as everyone else. Expand your net and explore your options. For me, Talentcor is not just an employment and staffing service agency. They are invested in helping you build a brighter future. As the proud mother of an amazing seven-year-old, my dream was to find an opportunity in a law firm where I could be a great role model and make a difference in her life. Like my fellow legal grads, I made a beeline for the legal employment firms when I graduated in 2013. These firms secured an internship experience for me, but nothing full-time. I was so discouraged and anxious about my next step. I never thought about other employment options.
Then I was invited to an employment session at Talentcor's Toronto branch. It was raining and I didn't want to leave the house, but I pulled myself together and went to the session. I had a great experience with Talentcor in the past, but I had no idea they placed candidates in the legal field. I met with Delanie Louis-Fernand, a Search and Placement Consultant on the team, who I discovered specializes in finding employment for candidates with my skills. She was impressed that I had gone back to school at TriOs College to get my law clerk diploma and that I had supplemented it with an event planning certificate from Centennial College.
My job search turned around 360 degrees that day. Delanie was on my side, mentoring and helping me shape my resume so it was seamless and honing my interview skills. I was a person to her with unique needs, not just a resume. Not long after, Delanie received a call from one of her legal clients called Simcoe Chambers/Section 16. They were hiring a full-time legal administrative assistant/receptionist and had trouble identifying a suitable candidate. They asked Delanie to fill the role temporarily until a qualified candidate could be hired. Delanie thought of me immediately.
After three weeks in the role, I was offered the full-time position. Talentcor opened that exciting door and gave me the opportunity to do work that I love and support my family. Simcoe Chambers/Section 16 is the most amazing firm. I feel so respected and supported by the lawyers and the team. This is the perfect place for me to grow, learn and build a career.
As the daughter of an executive chef, I've been surrounded by the excitement of the hospitality industry my whole life. I could not have been more excited when an opportunity arose at Simcoe Chambers/Section 16 to add event coordinator to my title. I helped launch a new program called First Thursday's, a monthly event where lawyers come together to network and discuss industry trends. I am so thrilled my employer allows me to use my multiple skills.
The fit at both Simcoe Chambers/Section 16 and Talentcor was perfect. I have referred five people to Delanie. I cannot thank her enough for changing my life. Talentcor is a hidden gem waiting for those who are looking for more."
Shafaat Mehdikhanli

Building a career in financial services
"I viewed Canada as an ideal country – offering excellent education, safety and a good lifestyle for a family. That's why I always knew that I would have to leave my home and immigrate to Canada one day to explore more diverse opportunities for advancing and developing my career.
I smile when I think about the long journey that eventually led me here and to the caring and talented team at Supertemp in Halifax. I had just arrived in Canada last November when I first met Georgina Caldwell and the team. I was referred to Supertemp by the Immigrant Settlement Association of Nova Scotia (ISANS), a remarkable group that helps immigrants when they arrive in Canada. I knew I was in the right place at Supertemp and was so relieved to have such impressive people working with me to find my first Canadian job. They helped me enhance my skills and start learning about Canada's culture.

I am proud of my accomplishments. I graduated from with a BSc, International Economic Relations (Specialization in Accounting and Finance) from Azerbaijan State Economic University in Baku and began my career as a finance intern at the United Nations Office In Azerbaijan. I earned a Masters of Science (MSc) in Banking along the way while honing my skills at Yapi Kredi Bank, Turan Bank and PwC in Azerbaijan and Unicredit S.P.A. in Italy. I even worked as a manager selling toys for a short time in the U.S.
You hear stories from immigrants who can't find work in their chosen field in their new country. Right from the start, Georgina said she was impressed by my background and wanted to find me a role in my field. Supertemp has an amazing team who care about their clients and want to help everyone meet their goals. They have excellent connections in the Halifax area and within a few weeks I had a temporary job at Metropolitan Regional Housing Authority, working as a senior accountant. I love what I do and I was committed to working very hard. They offered me full time work in March. The timing couldn't have been more perfect, given my wife is expecting. I am looking forward to growing with my new employer and studying towards my Chartered Professional Accountant (CPA) designation. Temporary work has opened the door to a bright future for me and my family.
Mehdi Teimouri

Dynamic and Ryder help open door to build a new life in Canada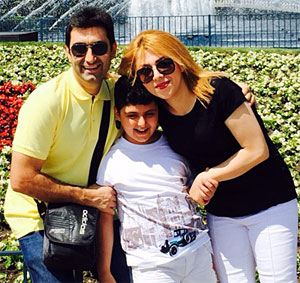 When I review the past nine months I can see that I have obtained so many precious advantages during this short period of time as a temporary employee. I never imagined I would have been able to get them in my first year of landing in my new home Canada. Prior to immigrating to Canada in early 2015, I worked as a Quality Engineer in Iran but my English language skills were not good and made interviews challenging. I was referred to Dynamic via a friend who experienced a similar situation when coming to Canada.
With Dynamic's help I was able to gain Canadian experience, improve my social network and familiarize myself with the rules and laws. I was given the opportunity to communicate and work with people from different cultures and backgrounds. I now have the self-confidence and belief that I am able to become one of the successful people in Canada. Dynamic has a strong relationship with their client Ryder. They secured me a job in Quality Auditing and I am now able to make a good future for my family and re-build those things that I left in my homeland, including all my experiences, jobs, friends and relatives. Now I can use both the experience of my homeland and my new land Canada to eliminate all the barriers in the way to reach success.
I have such respect for my manager Anne (at Ryder) who trusts me and helped me to adapt to the new position and encouraged me to improve myself. I also appreciate Suzanne McInerney, Dynamic's vice president, business development, who provided this opportunity to start a job in Canada. My wife and I just welcomed our first child Elsa and we are looking forward to a very bright future.
---