ACSESS CHAMPION: ADECCO Canada
Adecco Canada opens the doors of power to support future leaders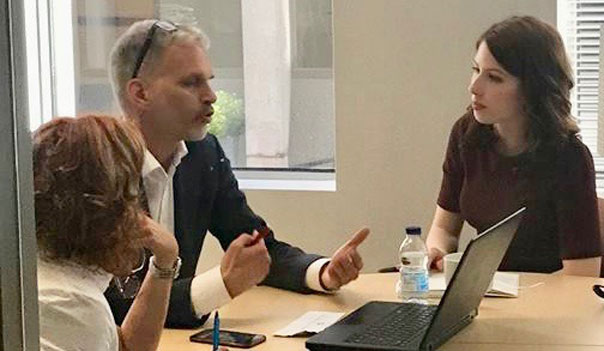 It took a leap of faith for Gilbert Boileau, President of Adecco Canada, to swing open the doors of his office for a month.
That's exactly what he did. In June, Gilbert invited Alana Couvrette, (pictured above with Gilbert) a 22-year-old student studying public administration and political science at the University of Ottawa, to job shadow him, as part of his company's CEO for One Month program. As part of the process, she would also share her journey along the way on social media.
Boileau is big believer in giving everyone at all levels a chance to excel but had some reservations. "I questioned how it would come together, yet was intrigued to see the outcome. I would need to allow someone in 'my bubble,'" explains Gilbert, "but for the program to work effectively, Alana needed to be able to shadow me as I carried out my day. Her job shadowing covered everything, including confidential meetings with other colleagues, events and client meetings. You name it. In the end it was a huge success and I would sincerely recommend it to any CEO."
This experience was also enlightening for Gilbert. "It was so interesting to share my experience with a young person and fascinating to see things through Alana's eyes. It forces you to think about things you haven't considered in years. She is impressive on so many levels. Her energy and enthusiasm was felt by the many teams. Armed with her political background, she was inquisitive, probing and asked me some tough questions. I had to explain so many things to Alana because she has very little background in our industry. It made me reflect on the way I do things..."
Alana was chosen from more than 2,300 applicants to become Adecco Canada's first ever CEO for One Month, a global program that is part of the company's Way To Work initiative. Gilbert's passion for the program and willingness to participate sparked after hearing the global CEO for One Month speak at an international company conference.
"This program is positioning us as an industry leader in attracting the next generation of leaders with our flexible, open and inclusive work environment," says Christine Marinho, Adecco Canada's Director of Marketing for The Adecco Group in Canada. "The Millennials represent 37 per cent of the Canadian workforce with 28 per cent of them in managerial roles. The Baby Boom generation is transitioning out of the workforce and we want to foster a supportive environment where we develop leadership talents, encourage the sharing of ideas and provide mentorship at all levels. Our CEO for One Month program allows us to 'walk the walk' and provide access to one exceptional leader who will share their experience in real-time with employees and potential candidates via social media."
What was it like for Alana to be given this extraordinary opportunity?
"It was overwhelming and inspiring in every possible way. I never realized you could get so much done with so little sleep," she says jokingly. "Yet, I would wake up every morning, excited to be able to do it all again. I had no idea what a CEO does and I wasn't very familiar with the staffing and employment industry. I've had a total of five jobs in my life and now I was working with the CEO." Watch one of Alana's Day in the Life video updates.
She and Gilbert instantly clicked. "He treated me as an equal, as we leapt head first into his jam-packed schedule, where we met with amazing Adecco clients, discussed their needs and worked with employees from every function across the organization. Everyone was so committed and excited."
Alana found Adecco employees to be very special. "They are 'people', people, so warm and welcoming. I really enjoyed travelling to meet with clients at their offices and learning about the services Adecco offers. I saw firsthand how fascinating the staffing industry is and how much Adecco cares for its clients and candidates. There are so many myths about the industry. I was in so many meetings about placing candidates and I saw how hard they work to get candidates the best benefits and compensation."
Some of Gilbert and Alana's favourite moments were driving to client meetings together and discussing industry issues. It's where they discovered how the generational divide sparks great debate and fosters understanding. "Both Gilbert and I like to be challenged, to be proven wrong and be shown the faults in our reasoning," says Alana. "It made for many lively conversations between the two of us. He has a fascinating background and it's rare for me to have the full attention of someone with his experience. I think we pushed each other to see the world from each other's eyes." Alana shares her thoughts on how Millennials and Baby Boomers can help each other enhance their leadership skills in this blog post
Adds Gilbert: "I enjoyed our debates. I think it's so important for Alana to not only challenge me, but everyone she is working with. There were some interesting debates and I am glad I created a haven for her to share her insights, which was eye opening for us both. This program is meant to benefit Alana but I learned so much as well. It's not often that you get the opportunity to have someone sitting beside you and observing how you work. She helped me see myself in a different angle, from the viewpoint of someone looking from the outside in."
What's next for Alana now that's she's helped lead the Canadian group of a multi-million dollar organization for one month? She is being considered along with 48 finalists from around the world for the honour of acting as Adecco's Global CEO for One Month, shadowing Alain Dehaze, The Adecco Group's Global CEO. The Global CEO for One Month selected will also receive a salary of 15,000 Euros. You can help Alana achieve her dream of becoming Adecco's global CEO FOR ONE MONTH. Anyone can rate the candidates. Visit here and scroll to the bottom to choose your top ten candidates. It just takes a moment.
"I am so proud of Alana," says Gilbert. "She was thrown in the water and swam so impressively. She had more of a theoretical view of the business world and she was able to see it in practice. It was amazing how poised she was considering everything she went through, meeting so many different stakeholders and engaging in real world discussions. To be able to work with the CEO at a macro level, at her age, is remarkable."