ACSESS CHAMPION: David Aplin Group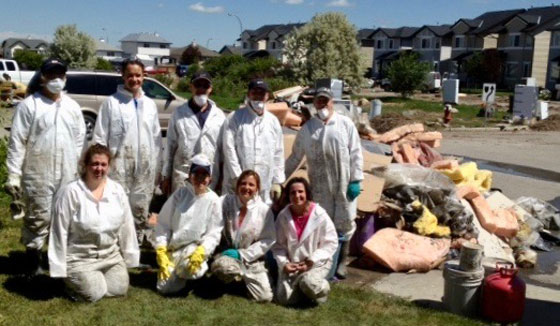 When Jeff Aplin was growing up in Edmonton, his church adopted a family of Vietnamese refugees. He was inspired when his parents eagerly stepped in to help -- his mother treating them to home-cooked meals and his dad coaching them for their first Canadian job interviews.
"Giving back is something we always did as a family," says Jeff, president, David Aplin Group. "My parents, Grace and David, believe that it's important to be compassionate and give people a hand up. Embedding social responsibility in our company's core values reflects my parents' values. We care and have a strong heart, which is a real differentiator for us. We were founded as a family company in 1975 and even though we've grown to nine offices across Canada, family values are still at the heart of everything we do."
Jeff feels fortunate to support the staffing and recruitment industry because it offers him endless opportunities to make a difference to Canadians' lives. "When someone is looking for a job, it can be a vulnerable time. We have the opportunity to make a positive impact in almost every conversation. Even if you're not going to place someone, you can give them a tip or words of encouragement to point them in the right direction. Our culture of trying to make a positive impact whenever you can fuels our social responsibility focus and our desire to give back."
The heart of the Aplin Group is big, strong and vast – spanning three pillars of charitable support at local, national and International levels. The Aplin Group knows the benefits of education to job success and wanted their international pillar to focus on building schools for disadvantaged communities.
"When my niece Jessica was at university, she went to Ghana through Free the Children's Adopt a Village (now part of the We Charity) to build schools with other students. She came back such a different person. My sister and brother-in-law decided to take their three children back a year later, this time going to Kenya. At the office, we started talking about our family experience with the work of the We Charity in Africa. We agreed that it's important to help our communities in Canada but also to take a broader view and seek ways to be good global citizens. We decided to help Free the Children too."
A commitment of only $10,000 can make a huge impact in financing a school in Irkaat, Kenya. Our Aplin Group employees are proud to have helped fund three new school classroom blocks. Employees also eagerly support many We Day events across Canada and are given the day off if they want to attend the annual We Day celebration. Employee contributions are matched by the Aplin Group as a percentage of profits.
"We are continually inspired by companies like David Aplin Group, which have made a conscious effort to give back to the community and we thank them for helping transform the world from 'me' to 'we'." – Craig Kielburger, Co-founder, Free The Children
For more than 20 years, all Aplin Group offices across Canada have been holding United Way workplace campaigns to raise funds for local programs and the company steps in to match their efforts. In the photo above, the Calgary staff can be seen helping those in need after the recent local floods in the area. "We want to support the important United Way efforts in the communities where we work. We chose United Way because of its national scope and we bring in speakers from this organization to help us understand how we can support United Way efforts in our communities. We have also supported the United Way by helping its team fill certain roles in their campaigns," says Jeff.
"At United Way, we are very proud to work with David Aplin Group employees across the country. Over the years, hundreds of thousands of dollars have been raised by your organization and invested to help the most vulnerable individuals and families. Thanks for your continued support!" – United Way Alberta
At the local level, the company encourages its employees to "lend their support and make a positive impact wherever they can." Paresh Mistry, regional vice president for the GTA, supports the Down Syndrome Association of Peel as its president. David Aplin Group employees and clients help Paresh with fundraising and by volunteering.
Jeff is proud to lead the second generation of the David Aplin Group family who believe being good corporate citizens is what makes a business thrive.