ACSESS CHAMPION: Marley Filiptseva
Manpower helped Marley get a leg up to achieve her dreams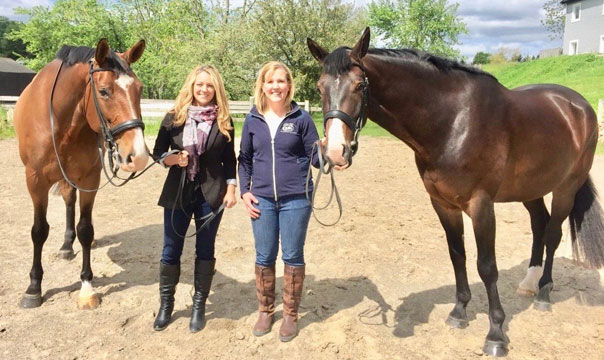 Havana, Karli Timpano (left), Marley Filiptseva and Devon.
Marley Filiptseva (in photo at right) has two passions: human resources (HR) and horses. She wants to succeed in HR shared services and dreams of representing Canada at global equestrian competitions. Until six months ago, both these goals sadly seemed beyond her reach. Her fate turned when she contacted Karli Timpano, Talent Placement Specialist, Skilled Trades/Automation/Sales Recruiter, at Manpower Canada (pictured above left).
Watch video of Marley and Karli telling their story.
"My family and I decided we would stay at our Alliston farm long term and build an indoor horse-back-riding facility so I could train in all weather," Marley explained. "Nothing too large, just enough for myself and my horses," she added.
As an avid competitive dressage rider for more than 25 years, this was going to be Marley's dream come true. Unfortunately, the couple faced so many stumbling blocks. "The bank felt that the investment was too high for our current combined income," said Marley. "After a few calculations, they said we needed to earn a higher level income to qualify comfortably." This news came on the heels of a candid discussion Marley had with her boss. He had bluntly told her there were no growth opportunities for her.
She had to look elsewhere. This was a challenge because her rural community had few opportunities in her field. "Believing my equestrian dream wasn't going to happen anytime soon, we put plans aside," she explained. "I couldn't have been more disappointed. I have a loving family who fully support my dreams but finances stood in our way."
In frustration, she reached out to Karli, a long-time client who had always helped her find great candidates. Karli was incredibly supportive. A week and a half later, she told Marley that Glueckler Metal Inc. (GMI), a Canadian turned parts supplier, had an opening for an HR manager. Within three weeks, Marley moved to a challenging new position in a leadership role working with Warren Collier, Operations Manager who is delighted to have Marley as part of his team and is excited to provide the growth opportunities she needs with GMI. "When I met Marley, I instantly knew she was the perfect fit for us. She's extremely bright, such a great communicator and so sharp when it comes to determining our needs." Not only has this new position created the professional challenges Marley was seeking but it's also provided an enhance compensation package that will support her equestrian dreams!
"I cannot thank Karli and Manpower Canada enough for making this happen. Karli was an absolute joy. She took time to get to know what I wanted and believed I had potential to be more," explains Marley. "Some things in life are meant to be. You just have to connect with the right people, like Karli, to make it happen. Not only do I now have a rewarding career with abundant opportunity for growth and development, I'm also able to realize my dream of developing my own dressage facility. To have both my professional and personal goals met in such a short time is phenomenal gift."
Adds Karli: "When I called to offer Marley her job at GMI, I almost started to cry. She told me, 'You don't understand how much this has changed my life.' Marley was so anxious to move her career forward. She is so talented and would be an asset to any organization. We are delighted we could help her move her life in a new direction and we'll cheer her on as she competes at the highest level in her HR career and on her horses."