Mike Russelo: A Multi-Lane Career in Transportation for the Long Haul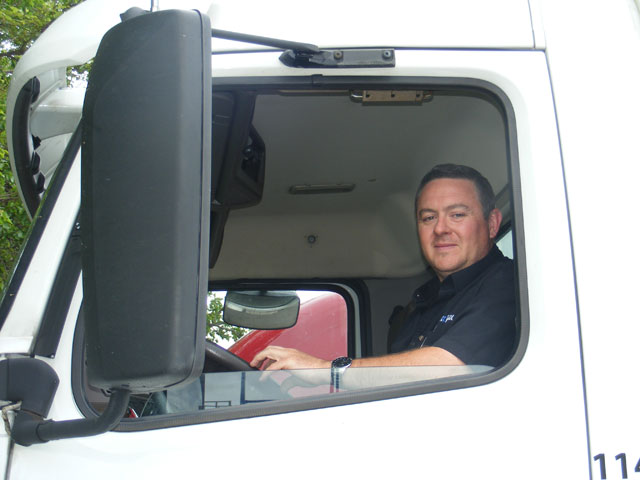 Mike Russelo, Operations Manager at Drakkar Logistics, is a shining example of the growing opportunities within the Canadian trunking industry. Following in his father's footsteps, Mike started his career as a professional AZ driver in the '90s. He was travelling throughout Canada and the United States when a contract position at Drakkar caught his interest. He had no idea this contract would be a stepping-stone to full-time employment with endless opportunities to hone his talents. "This sector is dynamic, no matter what role you play. It's always changing, always challenging," says Mike.
He started with Drakkar at a pivotal time in the transportation sector, as it was starting to take many sharp twists and turns. Since then, Mike has helped Drakkar stay ahead of the curve with varied solutions to serve their clients.
Their most recent success was tackling the driver shortage crisis in Canada's trucking industry. Baby-boomers who've spent their lives on the road are now retiring and boosting the need for qualified drivers. The Canadian Trucking Alliance predicts a potential shortage of more than 48,000 drivers by 2024. To curb the fallout for clients, Mike played a major role in developing an apprenticeship program that drove significant success to his work site. New candidates are now getting the training they need to succeed in the trucking business.
"I think our apprenticeship program is the right way to attract new people into the industry," says explains Michel Blaquière, Drakkar's President and COO. "Within the industry's current pool, drivers are moving from one company to another. It's wonderful to be involved in developing a successful apprentice. Their life is changed because of this program and our company effectively mitigates consequences from the industry's driver deficit."
This program is one example of how Mike lives and breathes Drakkar's continuous improvement philosophy and develops existing practices for the organization, such as onboarding, training and safety, adds Michel.

Mike's interest in safety led him down a new career path in 2013 when Drakkar had an opening in its safety department. "After being in the transportation industry for nearly 20 years, I wanted to explore another side of it and be part of professional drivers' continued development and training. Changing 'career' lanes and following that road, I discovered how much Drakkar believed in me and was confident that I was the person they wanted. They sent me for safety training, which ultimately gave me the tools to formally develop and implement successful programs for new drivers."
Mike completed his training in 2014 at the top of his class.
When a truck is involved in an accident, it can be devastating. Ensuring drivers are taking the necessary steps to comply with safety regulations, such as completing pre and post trip inspections, not driving longer than they should and making sure they are home often enough - is critical. The company is responsible for ensuring its drivers have functioning equipment, proper training and enough rest to complete the day's work effectively and safely.
"Yes, freight must be picked-up and delivered on time, claims free. However, this need is secondary to the safety and wellness of our drivers," adds Mike. The company and its clients are aligned and in full agreement with this.
Mike continued to progress and became a safety & compliance specialist in 2014. He is responsible for developing and facilitating safety training to groups of drivers and office staff.
Coming into the office made a big difference for Mike. He was in the safety seat for about a year and a half when an operations management position opened and allowed him to take another career step.
"We have a great team at Drakkar who have worked with me in this new role," says Mike. "Going from professional driver to safety specialist and now to a manager position meant I needed to develop and refine new skills. The Drakkar management team played a major role in my continued success."
The sentiment is mutual. "We've enjoyed so much success with Mike," explains Michel. "After all, finding the right person for the right job makes all the difference."
Drakkar happily continues to work with Mike, as he continues to grow. From a professional driver to an engaged manager, Mike has proven how much you can enjoy a successful career when your employer believes in you.