Meet Our ACSESS Leaders
Get to know the industry leaders!
Getting to Know…Angela Chambers, FCMA, FCPA, CPC., Practice Leader of Mercer Bradley's Winnipeg office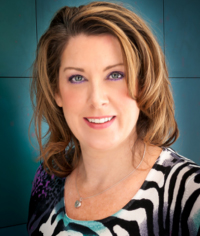 1. What was your very first job and how did it prepare you for your role today?
My first job was as the corporate accountant at Colliers Pratt McGarry, a growing commercial real estate and property management company. This role exposed me to accounting and inspired me to focus my career on this discipline. It also gave me my first taste of sales/entrepreneurship. We had a group of very driven real estate agents that I engaged with every day, working through their deals. I saw firsthand the relationship between effort, risk and reward.
I became a Chartered Professional Accountant and when I moved back to Winnipeg from Victoria, I went to a large recruiting firm to assist me in my job search. When I described my somewhat untraditional dream job, they interpreted it as a career running a temp staffing desk! I never looked back.
2. Name a business book that changed your life and why?
Although it's not a business book, every aspect of my life is inspired by The Four Agreements by Don Miguel Ruiz and Janet Mills.
Here is the link to the Four Agreements, and I live by them

3. Why did you decide to get involved in ACSESS?
I believe in giving back. Recruitment enabled me to earn a great living doing something I love, while changing lives. I enjoy developing our profession so others have that same opportunity. The ACSESS board allows me to contribute to our profession, as well as learn from my peers. It is mind blowing to look around and see the incredible talent around the table. I take away something from every encounter!

4. If you could be a superhero, who would you be and why?
Wonder Woman! Her character is powerful, strong willed and never backs down from a challenge. I also love her red boots and magic bracelets! I have a Wonder Woman figurine on my desk.
5. What does the media/general public not understand about staffing and recruitment?
I think we are often portrayed as a 'means to an end,' as people who just find and send resumes. In reality, we play the role of consultant and trusted partner. Our best work is done with clients and candidates when we have a genuine relationship. We 'get' them and they 'get' us. When we have the opportunity to really understand what makes our clients and candidates tick, we have a high success factor.
6. What's your best advice to those entering the staffing/recruiting profession today?
To listen and learn from successful recruiters in your office and be genuine in your approach. Be patient with yourself. It takes time to build a successful recruiting career.
7. What makes you excited about the future of our industry?
I think the lines between career and personal life are becoming increasingly blurred. As a result, career choices are more and more critical to an individual's wellbeing. On the flip side, hiring decisions are critical to an organization's productivity and success. I think we have an amazing opportunity to build relationships and help line up our candidates' core values and skills with those of our clients.
---
Getting to Know…Ted Maksimowski, Owner and Franchise Developer, Express Employment Professionals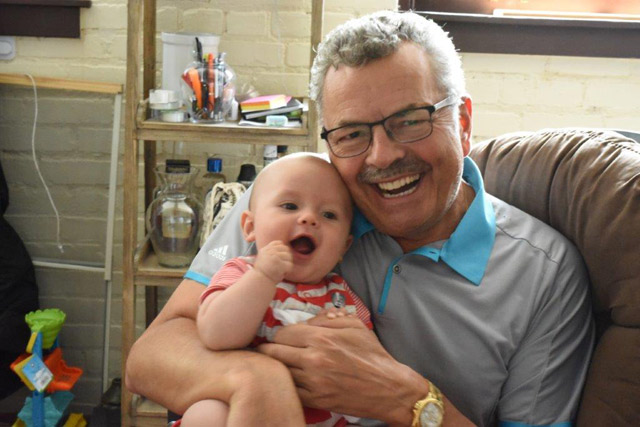 1. What was your very first job and how did it prepare you for your role today?
After graduating with my MBA, I had job offers from three different companies. I was hungry and thought I was smart. So I took the lowest paying job as Research Analyst at Dominion Stores because I thought it presented me with the best opportunity for growth and advancement. The first part proved to be very true – there was lots of opportunity for growth. The second proved more difficult to establish! My work at Dominion included supporting many different subsidiaries, various diverse projects, formulating plans and doing acquisitions. I had the good fortune to work with people that believed in me and my abilities (in spite of my shortcomings). They had the patience and wisdom to guide me, helping me grow as a leader. I quickly learned the importance of having good staff and colleagues. People took a chance on me and helped me grow. This is what we do every day at Express for the clients we serve, the people we help secure good jobs, and those who work at Express.

2. How did you get your start in our industry?
Prior to acquiring the Express franchise, I worked at BCE/Bell. When I was CEO of Bell Mobility Investments we invested in a number of different companies and I had the opportunity to represent Bell on the boards of those companies. To participate and play a part in the growth of those companies was both gratifying and challenging. When I left Bell, I looked for investment opportunities to lead my own business and do something meaningful for my clients to help them succeed. When I looked back, my most gratifying professional successes involved helping someone grow and develop. I felt proud knowing that their success was, at least in a small part, because of what I did. After reviewing several investment opportunities, Express was the right choice for me. I bought the Hamilton Express franchise in 2003, partnered to buy the Burlington/Oakville franchise two years later and then partnered with another franchisee to open the Brantford franchise in 2008. In the same year, I also took on a franchise developer role representing Express and supporting other franchisees in the Greater Toronto and Hamilton area.

3. Why did you decide to get involved in ACSESS?
Participating on the ACSESS Board is a win/win proposition for me. I get a chance to give back to the industry that gives me and my colleagues a living. I learn so much from the other members on the Board, as well as the staff, who do the heavy lifting. ACSESS provides its members with education, ethical standards, and best practices. We serve as the voice of the industry providing input on government legislation and managing our reputation. Our members do a great job in helping companies grow and finding candidates good jobs.

4. What gives you energy?
Positive people! It never ceases to amaze me how much leaders can impact a work environment or group based on how we act and what we say. Positivity creates energy and negativity saps it. I respect and enjoy working with people who can do that on a consistent basis. It's a joy to work with positive people and they energize everyone around them. This year I became a grandpa for the first time. Each face time or in person experience with my grandson Jakub (pictured above) energizes me.

5. What do you do to unwind?
I do not like to be stationary or just lie on a beach. I enjoy travelling, golf, and photography. Usually I find a way to do all three. Express provides opportunities for franchisees to qualify for incentive trips. Fortunately, thanks to the great people that work with me, I have had the opportunity to travel to many different countries and cities doing the activities I enjoy.

6. What do you love about our industry or what makes you most proud of it?
We get a chance to make a difference in people's lives - EVERY day! In what industry and in what other job can someone say that? We deliver success to our clients, our associates, and our staff. ACSESS members care. They care about people, our economy, and our country.

7. What qualities does an employee need today to thrive or what's your best advice to those entering the staffing/recruiting profession today?
As a franchise developer for Express, I get a chance to learn about and work with other franchisees and their clients. I always try to learn why one franchise or client is so much more successful than another given similar opportunities and tools. Perhaps not surprisingly, the most important factor that I've found in determining success is people -- specifically hiring, properly onboarding and motivating the 'right' people. At Express, we have done a lot of work with Stephen Covey and Ken Blanchard. Using Covey and Blanchard's words, the 'right' people have the following attributes:
Passionate – positive, high energy, happy.
Self-directed – take ownership of their own growth, positive work ethic, commitment.
Servant heart – truly interested in helping people, especially those they have the privilege to lead or work with.
---
Meet Jeff Nugent: Always one step ahead of the next big thing
Jeff Nugent at a Glance

Born: Hamilton, Ontario
Family Life: Married with three children
Education: Bachelor of Business Administration & Organization Behaviour
Wilfrid Laurier University, Waterloo, Ontario, Canada
Best Career Advice / Favorite Inspirational Quote: "One must always take the long view. It pays to build for the future even at the cost to the present. Eventually success is worth all of the effort" – Roy Thompson, 1969
Jeff Nugent, founder and CEO of Contingent Workforce Solutions, has an uncanny ability to anticipate the future and be in the right place at the right time.
At university he wasn't content to just study and hang out in the pub. Noting the lack of quality student housing, he bought a house with a friend and rented it to fellow students. That one house turned into 10. When he graduated, he had tasted entrepreneurial success and wanted more.
The technology sector was exploding and Jeff felt IT was the place to be. "I applied to an IT consulting company, thinking it was an traditional consulting firm. It turned out to be an IT recruiting firm and that's how I landed in the recruiting business."
It opened his eyes to a fascinating career opportunity.
In his first recruiting role Jeff quickly became one of the company's top account managers, uncovering a talent for building client relationships and developing a reputation for being honest and reliable.
"Nothing will stop me from acting ethically. It's about thinking long-term versus money on short-term gains. In this industry your reputation is everything. I will always be honest with my clients and industry partners," says Jeff.

After a brief stint with the US sales department of a Canadian software firm, he was lured back to the recruiting industry by a small but growing IT recruiting company called Procom. As one of its early hires, Jeff helped grow its presence within the financial services industry.
"I will always remember my first placement. The candidate was a new Canadian with strong IT skills but challenging language skills. I worked hard with the client project manager to find a team that would hire him. To show his gratitude, the candidate brought me box of Tim Hortons donuts. I was touched by his Canadian way of saying 'Thanks.'"
After steady success, Jeff saw the opportunity to develop solutions to consolidate Procom's client staffing vendors and directly sourced contractors through a single process. Procom's owner allowed Jeff to successfully launch its Flextrack MSP, VMS and payrolling solutions. It was the first MSP program in Canada and spurred the company's significant growth. Procom was a $35 million staffing agency when Jeff joined and when he finished his 13.5 year tenure, it had more than 3,000 billing contractors, with revenues of more than a half a billion dollars.
"It was an awesome experience bringing so much value to our clients. They embraced our offering and I saw opportunities everywhere. With so much change in the contract recruitment sector, I had a different vision of the future."
Jeff saw the number of contractors his enterprise clients hire increase exponentially. With this trend, governments were, and are still, trying to keep pace by evolving legislation about hiring contract and temporary workers. "The contractor arrangement is complex and must be managed properly to ensure compliance with laws and employment standards. If steps are skipped, the risk is costly."
Jeff knew he could create the solution to help corporate and staffing agency clients mitigate risk.
So in 2009, Jeff set up Contingent Workforce Solutions (CWS) to fit this market gap. So certain of this business model, he bankrolled the company himself and has never looked back. The contingent or gig workforce now represents a quarter of Canada's workforce and experts predict the entrepreneurial-leaning Millennials and retiring Boomers are poised to boost that number significantly.
"Our corporate and staffing agency clients hire the workers and we manage the administration. We've eliminated the barriers to provide opportunities for workers and protect our clients."
He believes 'simplicity' sets CWS apart. Simplicity is not just how it does business but also the name of its technology platform, which automates administration for hiring and paying contract workers. When Jeff couldn't find the perfect platform to meet these admin needs, CWS built its own system to help the business scale efficiently.
Jeff credits social media as a driving force in raising CWS's brand awareness and expansion into the U.S. and Europe. Today, he is managing editor of the 7,000 member Contingent Workforce Strategies – LinkedIn's largest global group focused on contingent/contract workforce management.
Jeff makes it a priority to give back to the industry he loves. He regularly speaks at industry conferences, is cited in industry research articles and has served on ACSESS' national board of directors for two years. There, he enjoys his industry advocate role, which includes debunking dated perceptions.
"You get a global view of our industry and firsthand insight about the hard work the industry is doing to serve its clients and the economy. Most importantly we help people find jobs to provide for themselves and their families. As an industry, we are making a difference and are committed to doing the right things."
As a member of the ACSESS Safety Group, he's proud of his work in advancing the best health and safety standards for workers. More than 70 ACSESS members participate in the group and are armed with the tools and resources to develop and effectively manage their program using WSIB's five-step Management Plan.
"In our industry, ACSESS has helped companies develop best practices for our contract and temporary workers that are as good or better than what full-time employers offer. As a participant in the ACSESS Safety Program, our workers' safety is the top priority. Even with white collar administrative environments, we ask our clients for their health and safety policies and inspections upfront. If they're not abiding by proper safety regulations, we step in. Our contractors must complete health and safety training and do the site and job-specific training checklist on their first day of work. If there's anything out of line, we act immediately to rectify the situation. Complacency is too risky."
With so much success already, what is Jeff dreaming of next?
"CWS has been fortunate to be in the right place at the right time. I feel strongly about advocating for self-employment and efficient employment models. I look forward to what the future holds, as an increasing number of workers choose contract and freelance work, while employers look to flexible work arrangements to meet their goals."
---

Meet Bruce McAlpine: A leader always passionately behind a cause
Bruce McAlpine at a Glance
Married to Nancy with 2 children and 2 grandkids
Born:Montreal
Best career advice: Choose carefully, commit fully, and never leave a job until you have mastered it.
Favourite Inspirational Quote: (so many choices!)
"Don't try to be a man of success but a man of value." Albert Einstein
First Job: factory floor sweeper in Germany at the age of 14
Awards:

ACSESS Leadership Award
ACSESS Special Recognition Award
ACSESS Award of Excellence

Roles at ACSESS:

Past President of APPAC (the Association of Professional Placement Agencies & Consultants) when we merged with the temporary staffing association to create ACSESS
Chair of the Ethics Committee
Chair of the Awards Committee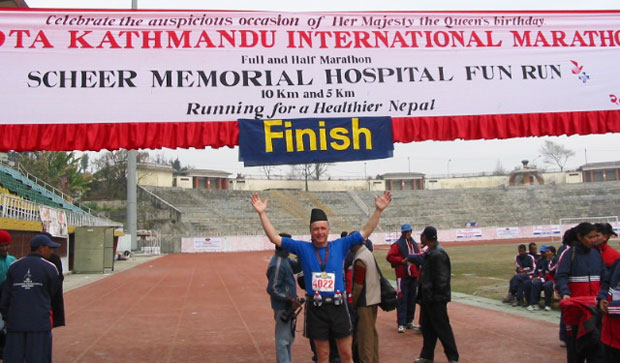 If you call Bruce McAlpine on his mobile, you never know where he'll pick up.

He might be on a Russian research vessel headed to his latest marathon in Antarctica, where he'll run off the grid and dodge packs of curious penguins. He'll insist this trip is not as exotic as his marathon in Kathmandu (above) where he landed after the King of Nepal declared martial law and scattered the runways with anti-aircraft guns. Bruce set a personal goal to participate in a marathon on every continent, a goal most of us would view as super human. He completed it at the age of 61.
You might also find him at the Children's Aid Society delivering life skills coaching to former wards of the crown, on Bay Street leading his monthly session on business ethics or sandbagging at his Brighton cottage to help protect his neighbours' homes threatened by recent floods.
This excitement is just an average day in the life of Bruce McAlpine, ACSESS's new national president for 2017-18 and president of Fulcrum Search Science. People who know Bruce just expect him to be pushing himself in some extraordinary way and committing his energy 'to the cause' -- an expression near and dear to him.
During his formative years, he hopscotched around the world as a 'military brat' examining life through the lens of public service and watching his family revel in helping others. His values are not something he writes on a piece of paper, places in a drawer and scans periodically.
"My personal purpose statement is bringing hope with joy and integrity. It defines where I'm investing my time, energy and capacity," he explains. "This has formed the foundation that has guided me in everything I do in life. Life is so fleeting and a whole decade can go by while you're figuring out what you're about. You need purpose. I've always wanted my legacy to be about giving back."
Bruce followed his father into the military studying at the Royal Military Colleges in Saint Jean, Quebec and in Kingston, Ontario. After graduating, he embarked on a four-year adventure with the French-Canadian Infantry Unit, The Royal 22nd Regiment or the 'Van Doos'. He served with the UN forces in Cyprus and engaged in training exercises like "Jungle Warfare" and "Escape and Evasion".
"In the military, the focus is not on self. It's on team. You don't succeed unless your team succeeds. Your team has your back," says Bruce. "Operating at the highest principles is so important when so much is on the line."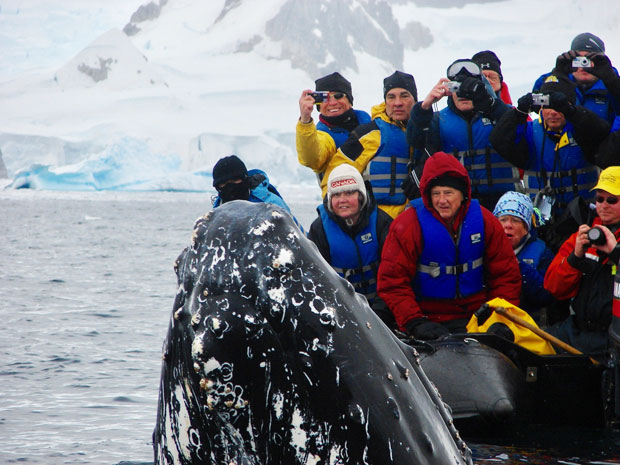 ACSESS has been his team for more than 20 years. Bruce (pictured top row second from right with his wife Nancy wearing the Canada cap beside the whale) been proud to invest his time and talents on the board of directors to support an industry that changes lives.
"At ACSESS, we all work in the service industry. The recruitment and staffing services industry is a calling, not a job. We are building Canada, one placement at a time. We are not successful unless our clients and their candidates reach their goals. Part of that goal is a rewarding job. What could be more important to a family than a job?
"Just before the past festive season, I secured jobs for two unemployed people, who were both breadwinners for their families. They were placed at different companies yet they both reached out to me at the same time to say, 'Bruce, you have no idea, you've made my family's Christmas.'"
It's impossible for Bruce to commit to anything if he can't make this kind of difference. It's what drew him to the Bagg Group 30 years ago, recruited by founder Keith Bagg, who was a long-time client of Bruce's in a consulting firm. Bruce clicked with Keith right away. They shared similar business values and philosophies. When Keith asked him to join his senior search practice, it was an offer he couldn't refuse.
Not long after Bruce joined the Bagg Group, he was leading its search practice division, which he rebranded as Fulcrum Search Science. "My style comes from the military model where it's critical to push decision making down to the lowest level. Everyone must contribute their talents for us all to succeed. We hire good people who share our values of commitment to mission, commitment to cause, with strong integrity, discipline, and work ethic. I act as the facilitator to clear the obstacles so they can get on with their job."
A style like this that engages each team's varied talents is exactly what the staffing and recruitment industry requires as we navigate the unique challenges our economy faces today. These challenges include the:
Universal fight for skilled workers at all levels
Demographic shift as Boomers get older and exit jobs at all levels
Need to engage and retain the Millennial cohort seeking to blur the lines between work and life
"As employment experts, ACSESS members provide value to our clients and candidates, continually looking out for their long-term interests. We stay a step ahead of our client's hiring strategy to understand their talent and retention requirements today and in the future. We find the right talent who have the qualities that their organization needs and will grow with the organization. We work in a $13 billion industry in Canada and I'm proud that we serve this industry with the highest standards of excellence."
Bruce can't think of a better industry to invest his time to give back. He enthusiastically looks forward to this coming year on the board and the opportunity to further strengthen the success of this industry's 'calling.'
---