Recent Notices to Members
ACSESS Ontario: Bill 148 - ACSESS positioning, key amendments and implications on the staffing industry
ACSESS Event in Toronto, October 10, 2017:
Bill 148 - ACSESS positioning, key amendments and implications on the staffing industry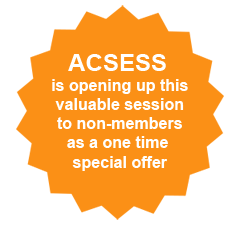 On August 21, 2017, the Standing Committee on Finance and Economic Affairs adopted amendments to Bill 148, the Fair Workplaces, Better Jobs Act, 2017 which will be reported back to the Ontario Legislature when it resumes sitting on September 11, 2017. The committee has added a one week qualifier for Personal Emergency Leave paid days entitlement and modest limitations on scheduling provisions.
ACSESS is hosting a follow up information session on Bill 148 - we will provide an overview of the key amendments, ACSESS positioning and what we can expect prior to adoption.
We understand at this time that the Bill may be returned to Committee after it receives Second Reading in the Legislature, so there may be more opportunities for the employer community to express its views to the government in the hopes of changing some of the more far–reaching elements of the Bill.
We will continue to monitor the progress of Bill 148, and will report on any further changes of interest to members.
Speakers:
• Craig Rix, Partner, Hicks Morley
• Paul Broad, Partner; Hicks Morley
• Mary McIninch, Executive Director, Government Relations; ACSESS
Date:
Tuesday, October 10, 2017
Time:
8:00 am – 10:00am
Location:

Hicks Morley Hamilton Stewart Storie LLP – board room
77 King St. W., 39th Floor, Box 371, TD Centre
Toronto, ON M5K 1K8

Cost:
Member Fee: $150.00 | Non-Member Fee: $175.00 (+ tax)
About Craig Rix
Craig Rix is a partner with the labour and employment law firm Hicks Morley. Craig is an advocate, negotiator, relationship-builder and problem-solver. Applying a broad skill base forged through experience at the bargaining table, the boardroom table and a three-year leave early in his career as a senior advisor with the provincial government, Craig has developed an ability to help his clients creatively solve a number of human resources problems. Using his practical knowledge of the statutory, regulatory and public policy-making process, Craig's work also includes representing employers with a wide range of legal, public policy advocacy and governance-related issues.
About Paul Broad
Paul Broad is an experienced labour and employment lawyer practising out of Hicks Morley's London office. He has a general labour and employment practice, and works with a variety of employers in both the public and private sectors in a broad range of areas including employment standards, privacy and information management, labour relations, human rights and accessibility-related issues.
SOLD OUT!
Event Sponsored by: