Recent Notices to Members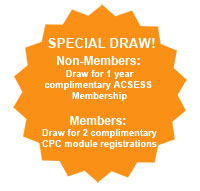 Leveraging Social Media for the Staffing & Recruiting Industry
In this session, you will learn to understand the importance of social media and how it impacts staffing & recruiting. We will provide recruitment strategies using top social media platforms; you will learn key characteristics of thought leaders and how you can apply them to your customers, candidates and employees. This session is highly interactive with mini workshops on Creating Your Personal Brand, Social Media Bios and more...
Date:
Tuesday, February 13th, 2018
Time:
12:00pm-3:00pm (Lunch is included)
Location:
Manitoba Club
194 Broadway
Winnipeg, MB
Fee:
Members $50 | Non-Members $60
Trainer:
Jill Kantor
RSVP:
acsess@acsess.org
Trainer bio:
Jill brings 13+ successful years as a Senior Partner, Managing Consultant & National Field Trainer with the David Aplin Group. A proven track record, Jill is a 10-time Top Performer Award Winner and brings a wealth of experience training, coaching and developing people. She successfully spearheaded the development and execution of Aplin University, ongoing training programs, webinars, workshops and lunch & learns for the David Aplin Group, nationally. Jill earned her Practical Workshop Facilitation Skills Certificate through the University of Winnipeg in 2016. She is also a head industry trainer for ACSESS delivering many of the Core Industry Training and CPC webinars.