ACSESS Champion Program
Promoting inspiring stories of success from our over 1000 members
The ACSESS Champion program promotes inspiring stories of success from our over 1,000 members in the Canadian staffing industry. Our members offer their candidates more than a job. Every year our members change lives by opening doors for Canadians looking for employment to help them reach their goals, support their families and build an exciting future.
CURRENT CHAMPION
Marley Filiptseva – ACSESS Champion
Manpower helped Marley get a leg up to achieve her dreams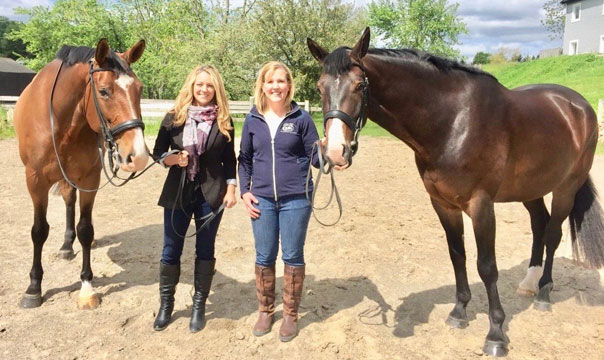 Havana, Karli Timpano (left), Marley Filiptseva and Devon.
Marley Filiptseva (in photo at right) has two passions: human resources (HR) and horses. She wants to succeed in HR shared services and dreams of representing Canada at global equestrian competitions. Until six months ago, both these goals sadly seemed beyond her reach. Her fate turned when she contacted Karli Timpano, Talent Placement Specialist, Skilled Trades/Automation/Sales Recruiter, at Manpower Canada (pictured above left).
Watch video of Marley and Karli telling their story.
"My family and I decided we would stay at our Alliston farm long term and build an indoor horse-back-riding facility so I could train in all weather," Marley explained. "Nothing too large, just enough for myself and my horses," she added.
As an avid competitive dressage rider for more than 25 years, this was going to be Marley's dream come true. Unfortunately, the couple faced so many stumbling blocks. "The bank felt that the investment was too high for our current combined income," said Marley. "After a few calculations, they said we needed to earn a higher level income to qualify comfortably." This news came on the heels of a candid discussion Marley had with her boss. He had bluntly told her there were no growth opportunities for her.
She had to look elsewhere. This was a challenge because her rural community had few opportunities in her field. "Believing my equestrian dream wasn't going to happen anytime soon, we put plans aside," she explained. "I couldn't have been more disappointed. I have a loving family who fully support my dreams but finances stood in our way."
In frustration, she reached out to Karli, a long-time client who had always helped her find great candidates. Karli was incredibly supportive. A week and a half later, she told Marley that Glueckler Metal Inc. (GMI), a Canadian turned parts supplier, had an opening for an HR manager. Within three weeks, Marley moved to a challenging new position in a leadership role working with Warren Collier, Operations Manager who is delighted to have Marley as part of his team and is excited to provide the growth opportunities she needs with GMI. "When I met Marley, I instantly knew she was the perfect fit for us. She's extremely bright, such a great communicator and so sharp when it comes to determining our needs." Not only has this new position created the professional challenges Marley was seeking but it's also provided an enhance compensation package that will support her equestrian dreams!
"I cannot thank Karli and Manpower Canada enough for making this happen. Karli was an absolute joy. She took time to get to know what I wanted and believed I had potential to be more," explains Marley. "Some things in life are meant to be. You just have to connect with the right people, like Karli, to make it happen. Not only do I now have a rewarding career with abundant opportunity for growth and development, I'm also able to realize my dream of developing my own dressage facility. To have both my professional and personal goals met in such a short time is phenomenal gift."
Adds Karli: "When I called to offer Marley her job at GMI, I almost started to cry. She told me, 'You don't understand how much this has changed my life.' Marley was so anxious to move her career forward. She is so talented and would be an asset to any organization. We are delighted we could help her move her life in a new direction and we'll cheer her on as she competes at the highest level in her HR career and on her horses."
PAST CHAMPIONS
Rashidul Islam, ACSESS CHAMPION

How temp work drove Rashidul Islam from a taxi to a permanent finance role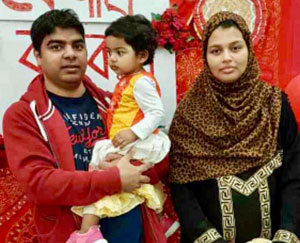 How do you go from two years of taxi driving to landing an accounting role that was once beyond your reach? For Rashidul Islam it started with meeting Angela Chambers, practice leader with Mercer Bradley, a specialized Accounting recruitment firm in Winnipeg.
"I remember how excited I was to meet Angela and how friendly she was," says Rashidul. "I met so many people after arriving in Canada. This networking and hard work just wasn't helping me secure a job in accounting, the field I'd trained in. In Angela, I felt I had finally met someone who cared and was willing to help me build my career. I came to Canada in 2012 from Dubai via Bangladesh with some savings but I quickly used them up trying to get an accounting job. I was desperate. I was continually told I lacked Canadian experience, yet I had extensive supervisory experience in Dubai. I lived with my sister and had to pay for expenses. So I took work wherever I could find it; first in a hotel, then a warehouse, then driving a taxi. While driving, I met many fascinating Canadians who gave me advice and helped me enhance my communications skills. It wasn't ideal but I felt I didn't have options. One day when I was driving between fares, I decided I needed to take action. I felt I had options just like everyone else. I had to pursue my interest. So I decided to enrol in the Chartered Professional Accountant program (CPA). I really couldn't afford the money needed to enrol, let alone take courses, but I knew I couldn't afford not to do it. It was a risk. I was on the CPA website searching for jobs and I saw a position at Mercer Bradley that was posted by Angela, who I've since discovered is a CPA. She placed me in a three- month contact at Arctic Co-Operatives Ltd as a financial support officer. It felt like a great fit. Working on a temporary contract is a great option for job seekers. It takes the risk out of accepting a job. It gave me a chance to get to know the company and confirm that its culture and the job were perfect for me. I was even more thrilled when they offered me a job after the contract ended. I am so grateful to Angela for believing in me. I love my job. My co-workers are so nice and helpful, which I really appreciate. Their attitude helps me get to know my job and learn about Canadian culture. My manager Pauline Scott regularly reaches out to me, going over and above to ask how she can help me grow in my job and manage my work/life balance. She does the same for all my co-workers. I couldn't ask for a better boss or team. I feel more confident each day. I want to build a career and life in Canada with my new wife and baby. Angela and temporary employment opened those doors for me. "
Shanesse Mair, ACSESS CHAMPION

Talentcor mentored new grad to land the role of her dreams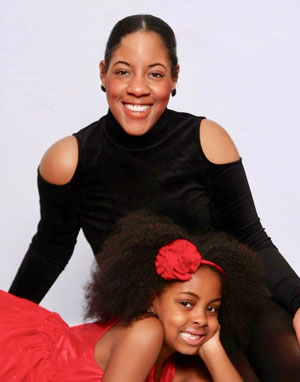 "I tell my friends who are looking for a job to avoid following the same beaten path as everyone else. Expand your net and explore your options. For me, Talentcor is not just an employment and staffing service agency. They are invested in helping you build a brighter future. As the proud mother of an amazing seven-year-old, my dream was to find an opportunity in a law firm where I could be a great role model and make a difference in her life. Like my fellow legal grads, I made a beeline for the legal employment firms when I graduated in 2013. These firms secured an internship experience for me, but nothing full-time. I was so discouraged and anxious about my next step. I never thought about other employment options.
Then I was invited to an employment session at Talentcor's Toronto branch. It was raining and I didn't want to leave the house, but I pulled myself together and went to the session. I had a great experience with Talentcor in the past, but I had no idea they placed candidates in the legal field. I met with Delanie Louis-Fernand, a Search and Placement Consultant on the team, who I discovered specializes in finding employment for candidates with my skills. She was impressed that I had gone back to school at TriOs College to get my law clerk diploma and that I had supplemented it with an event planning certificate from Centennial College.
My job search turned around 360 degrees that day. Delanie was on my side, mentoring and helping me shape my resume so it was seamless and honing my interview skills. I was a person to her with unique needs, not just a resume. Not long after, Delanie received a call from one of her legal clients called Simcoe Chambers/Section 16. They were hiring a full-time legal administrative assistant/receptionist and had trouble identifying a suitable candidate. They asked Delanie to fill the role temporarily until a qualified candidate could be hired. Delanie thought of me immediately.
After three weeks in the role, I was offered the full-time position. Talentcor opened that exciting door and gave me the opportunity to do work that I love and support my family. Simcoe Chambers/Section 16 is the most amazing firm. I feel so respected and supported by the lawyers and the team. This is the perfect place for me to grow, learn and build a career.
As the daughter of an executive chef, I've been surrounded by the excitement of the hospitality industry my whole life. I could not have been more excited when an opportunity arose at Simcoe Chambers/Section 16 to add event coordinator to my title. I helped launch a new program called First Thursday's, a monthly event where lawyers come together to network and discuss industry trends. I am so thrilled my employer allows me to use my multiple skills.
The fit at both Simcoe Chambers/Section 16 and Talentcor was perfect. I have referred five people to Delanie. I cannot thank her enough for changing my life. Talentcor is a hidden gem waiting for those who are looking for more."
Shafaat Mehdikhanli, ACSESS Champion

Building a career in financial services
"I viewed Canada as an ideal country – offering excellent education, safety and a good lifestyle for a family. That's why I always knew that I would have to leave my home and immigrate to Canada one day to explore more diverse opportunities for advancing and developing my career.
I smile when I think about the long journey that eventually led me here and to the caring and talented team at Supertemp in Halifax. I had just arrived in Canada last November when I first met Georgina Caldwell and the team. I was referred to Supertemp by the Immigrant Settlement Association of Nova Scotia (ISANS), a remarkable group that helps immigrants when they arrive in Canada. I knew I was in the right place at Supertemp and was so relieved to have such impressive people working with me to find my first Canadian job. They helped me enhance my skills and start learning about Canada's culture.

I am proud of my accomplishments. I graduated from with a BSc, International Economic Relations (Specialization in Accounting and Finance) from Azerbaijan State Economic University in Baku and began my career as a finance intern at the United Nations Office In Azerbaijan. I earned a Masters of Science (MSc) in Banking along the way while honing my skills at Yapi Kredi Bank, Turan Bank and PwC in Azerbaijan and Unicredit S.P.A. in Italy. I even worked as a manager selling toys for a short time in the U.S.
You hear stories from immigrants who can't find work in their chosen field in their new country. Right from the start, Georgina said she was impressed by my background and wanted to find me a role in my field. Supertemp has an amazing team who care about their clients and want to help everyone meet their goals. They have excellent connections in the Halifax area and within a few weeks I had a temporary job at Metropolitan Regional Housing Authority, working as a senior accountant. I love what I do and I was committed to working very hard. They offered me full time work in March. The timing couldn't have been more perfect, given my wife is expecting. I am looking forward to growing with my new employer and studying towards my Chartered Professional Accountant (CPA) designation. Temporary work has opened the door to a bright future for me and my family.
Mehdi Teimouri, ACSESS Champion

Dynamic and Ryder help open door to build a new life in Canada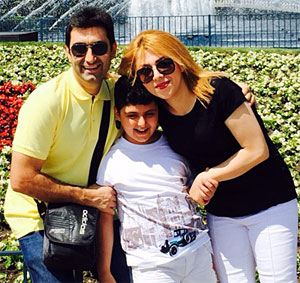 When I review the past nine months I can see that I have obtained so many precious advantages during this short period of time as a temporary employee. I never imagined I would have been able to get them in my first year of landing in my new home Canada. Prior to immigrating to Canada in early 2015, I worked as a Quality Engineer in Iran but my English language skills were not good and made interviews challenging. I was referred to Dynamic via a friend who experienced a similar situation when coming to Canada.
With Dynamic's help I was able to gain Canadian experience, improve my social network and familiarize myself with the rules and laws. I was given the opportunity to communicate and work with people from different cultures and backgrounds. I now have the self-confidence and belief that I am able to become one of the successful people in Canada. Dynamic has a strong relationship with their client Ryder. They secured me a job in Quality Auditing and I am now able to make a good future for my family and re-build those things that I left in my homeland, including all my experiences, jobs, friends and relatives. Now I can use both the experience of my homeland and my new land Canada to eliminate all the barriers in the way to reach success.
I have such respect for my manager Anne (at Ryder) who trusts me and helped me to adapt to the new position and encouraged me to improve myself. I also appreciate Suzanne McInerney, Dynamic's vice president, business development, who provided this opportunity to start a job in Canada. My wife and I just welcomed our first child Elsa and we are looking forward to a very bright future.
---