ACSESS Champion Program 2016
Promoting inspiring stories of success from our over 1000 members
During Staffing Week 2016, we launched the ACSESS Champion program to promote inspiring stories of success from our over 1000 members in the Canadian staffing industry. Our members offer their candidates more than a job. Every year our members change lives by opening doors for Canadians looking for employment to help them reach their goals, support their families and build an exciting future.
Shafaat Mehdikhanli, ACSESS Champion
Building a career in financial services
"I viewed Canada as an ideal country – offering excellent education, safety and a good lifestyle for a family. That's why I always knew that I would have to leave my home and immigrate to Canada one day to explore more diverse opportunities for advancing and developing my career.
I smile when I think about the long journey that eventually led me here and to the caring and talented team at Supertemp in Halifax. I had just arrived in Canada last November when I first met Georgina Caldwell and the team. I was referred to Supertemp by the Immigrant Settlement Association of Nova Scotia (ISANS), a remarkable group that helps immigrants when they arrive in Canada. I knew I was in the right place at Supertemp and was so relieved to have such impressive people working with me to find my first Canadian job. They helped me enhance my skills and start learning about Canada's culture.

I am proud of my accomplishments. I graduated from with a BSc, International Economic Relations (Specialization in Accounting and Finance) from Azerbaijan State Economic University in Baku and began my career as a finance intern at the United Nations Office In Azerbaijan. I earned a Masters of Science (MSc) in Banking along the way while honing my skills at Yapi Kredi Bank, Turan Bank and PwC in Azerbaijan and Unicredit S.P.A. in Italy. I even worked as a manager selling toys for a short time in the U.S.
You hear stories from immigrants who can't find work in their chosen field in their new country. Right from the start, Georgina said she was impressed by my background and wanted to find me a role in my field. Supertemp has an amazing team who care about their clients and want to help everyone meet their goals. They have excellent connections in the Halifax area and within a few weeks I had a temporary job at Metropolitan Regional Housing Authority, working as a senior accountant. I love what I do and I was committed to working very hard. They offered me full time work in March. The timing couldn't have been more perfect, given my wife is expecting. I am looking forward to growing with my new employer and studying towards my Chartered Professional Accountant (CPA) designation. Temporary work has opened the door to a bright future for me and my family.
Mehdi Teimouri, ACSESS Champion
Dynamic and Ryder help open door to build a new life in Canada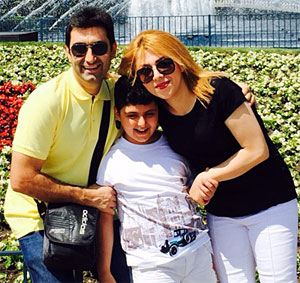 When I review the past nine months I can see that I have obtained so many precious advantages during this short period of time as a temporary employee. I never imagined I would have been able to get them in my first year of landing in my new home Canada. Prior to immigrating to Canada in early 2015, I worked as a Quality Engineer in Iran but my English language skills were not good and made interviews challenging. I was referred to Dynamic via a friend who experienced a similar situation when coming to Canada.
With Dynamic's help I was able to gain Canadian experience, improve my social network and familiarize myself with the rules and laws. I was given the opportunity to communicate and work with people from different cultures and backgrounds. I now have the self-confidence and belief that I am able to become one of the successful people in Canada. Dynamic has a strong relationship with their client Ryder. They secured me a job in Quality Auditing and I am now able to make a good future for my family and re-build those things that I left in my homeland, including all my experiences, jobs, friends and relatives. Now I can use both the experience of my homeland and my new land Canada to eliminate all the barriers in the way to reach success.
I have such respect for my manager Anne (at Ryder) who trusts me and helped me to adapt to the new position and encouraged me to improve myself. I also appreciate Suzanne McInerney, Dynamic's vice president, business development, who provided this opportunity to start a job in Canada. My wife and I just welcomed our first child Elsa and we are looking forward to a very bright future.
---